Elections Voting Machine Demonstration – DS200 & Express Vote
Below is a link for the Elections Voting Machine Demonstration – DS200 & Express Vote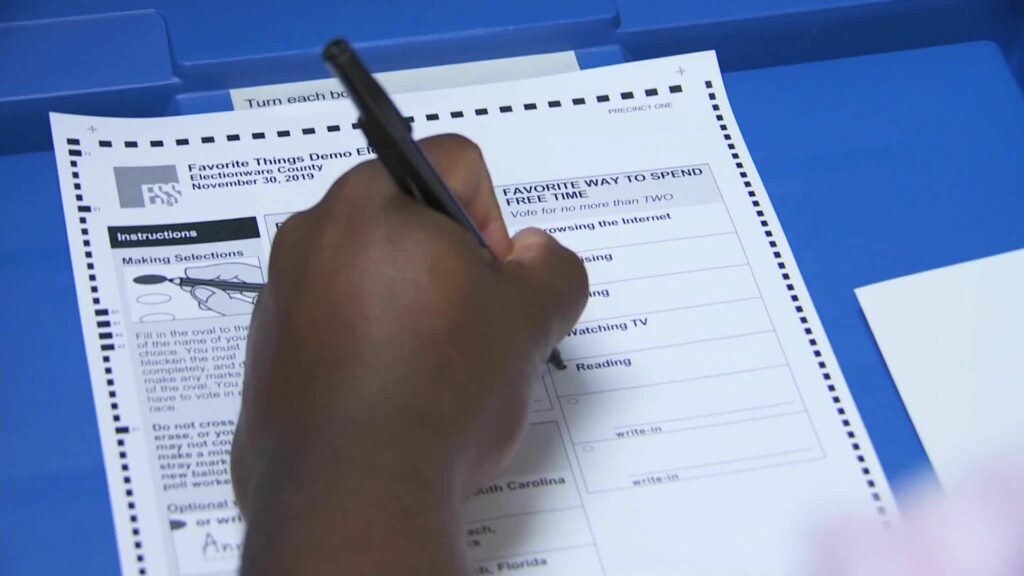 The ExpressVote provides a means for voters who need assistance to mark and print a readable and verifiable card. Voters with visual impairments have access to headphones that provide audio instructions and can use an audio-tactile keypad with braille legends to mark selections. Votes are recorded on a visible card to avoid voter concerns with the integrity of a purely electronic vote recording system.
Marked ExpressVote cards are tabulated using the DS200 scanner.
ExpressVote has a built-in lithium-ion battery pack that provides power if AC power is lost. The fully charged battery runs the unit for at least 2 hours without AC power. If the expressVote reaches a critically low battery power level without being shut off, the ExpressVote will initiate a controlled shutdown to prevent the system from being corrupted.
Voters with low vision can view the screen as they use the headphones and tactile keypad for an audio-visual voting experience. The keypad's faceplate also has embossed Braille codes to identify each key. The Audio-tactile keypad also features a diamond shaped tactile key labeled "screen" that allows the voter to select a black privacy screen for the voting session.
Ways to Vote with ExpressVote: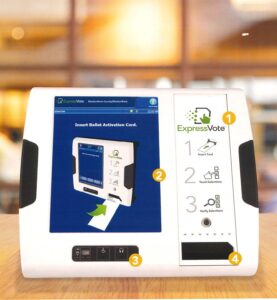 Touch Screen – The ExpressVote is equipped with a touch screen to make selections and the on screen keyboard for the write in races if applicable.
Keypad – Voters can use the keypad to maneuver through the ballot and make choices. Typically the keypad is used by the visually impaired and headphones should be used to hear ballot instructions.
Sip-n-Puff – This is an interface device commonly used by persons with disabilities, using his/her mouth on a straw to send inputs to the ExpressVote. the voter sips or puffs on the straw to navigate contest and make selections.
Rocker Paddle – This interface in commonly used by persons with disabilities using his/her hands or feet to make selections instead of pressing the touch screen . the voter uses the paddle to indicate YES or NO.
This website is provided as a source for public information. The Supervisor of Elections makes every effort to ensure the information provided is accurate. However, no warranties, expressed or implied, are provided for the data herein, its use or interpretation.
To ensure all voters have access to our website, our techs are doing their best to comply with the Americans with Disabilities Act. We are working on making our content accessible to all. If we can help you with any difficulties, do not hesitate to let us know.
DS200 Demonstration Video